EDUCATION
MUSIC ART ACTION
MAY DAY BRASS BBQ
DATE: SATURDAY MAY 5, 2018
 Performers (subject to change)  (new to the lineup * new national/international***)
What Cheer Brigade (Providence)
Detroit Party Marching Band (Detroit)
Afro Yaqui Music Collective (Pgh)
Keleta and Super Yamba Band (West Africa/NYC)***
Mdou Moctar (Niger)***
Gaiteros De Sanguashington (Washington DC)***
1Hood (Pittsburgh)*
Coro Latinoamericano (Pittsburgh)***
Esso Afrojam Funkbeat (Chicago)***
Timbeleza (pgh)
Bitch Thunder (Toledo, OH)
Col Eagleburger (PGH)
May Day Marching Band (Pgh)
Rumbon de la Calle (Pgh)*
Sto-Rox Marching Band
Big Blitz (Pittsburgh PA)*
Bombici (Pittsburgh, PA)*

Through educational programming and community events, Pittonkatonk encourages musicians, audiences, and community members to engage on a social level blurring the lines between performer and spectator. We focus our efforts towards supporting music education in local high schools around the Pittsburgh Area.
LEARN MORE
SOCIAL IMPACT EXPERIENCE
Pittonkatonk plans to launch a new program, The Social Impact Experience that will partner local organizations working on issues ranging from clean air, clean water, immigration, displacement, and social justice with local musical performers to create new collaborative works to be featured at the annual Pittonkatonk May Day Picnic and yearly Showcase on May 5, 2018.
LEARN MORE
UPCOMING RELATED PROGRAMMING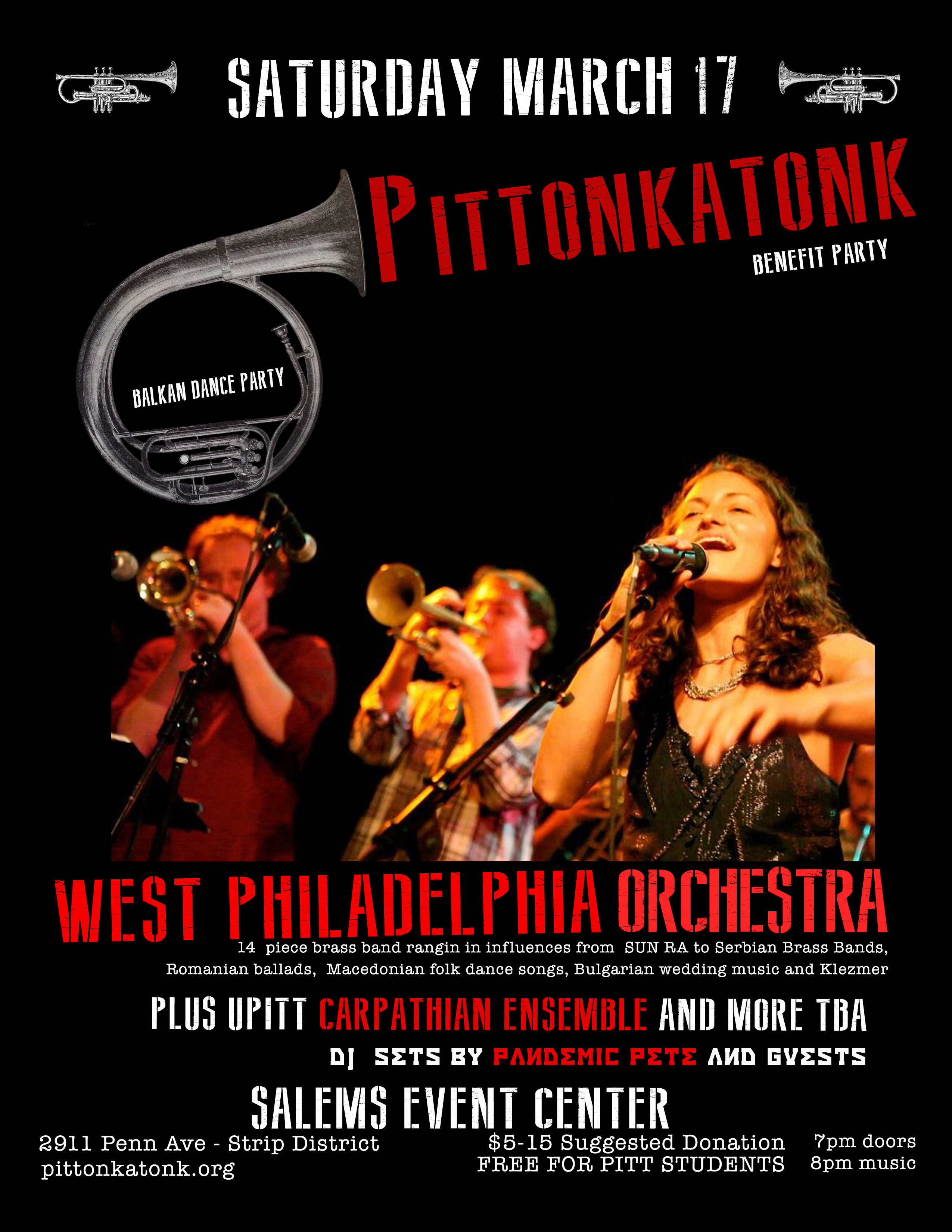 Pittonkatonk Benefit in partnership with the University of Pittsburgh Music Dept.
$5-15 suggested donation
7pm doors
8pm music
all ages
West Philadelphia Orchestra
Carpathian Ensemble
Pandemic Pete playing balkan music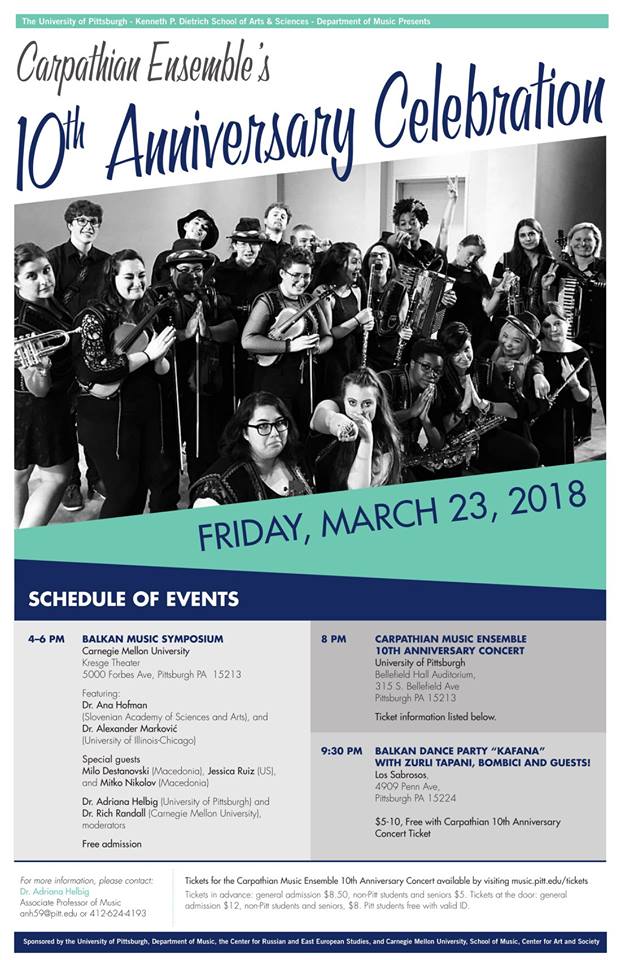 Carpathian 10th Anniversary Symposium, Concert and Party! March 23, 2018. Joint event with the University of Pittsburgh and Carnegie Mellon University. Join us!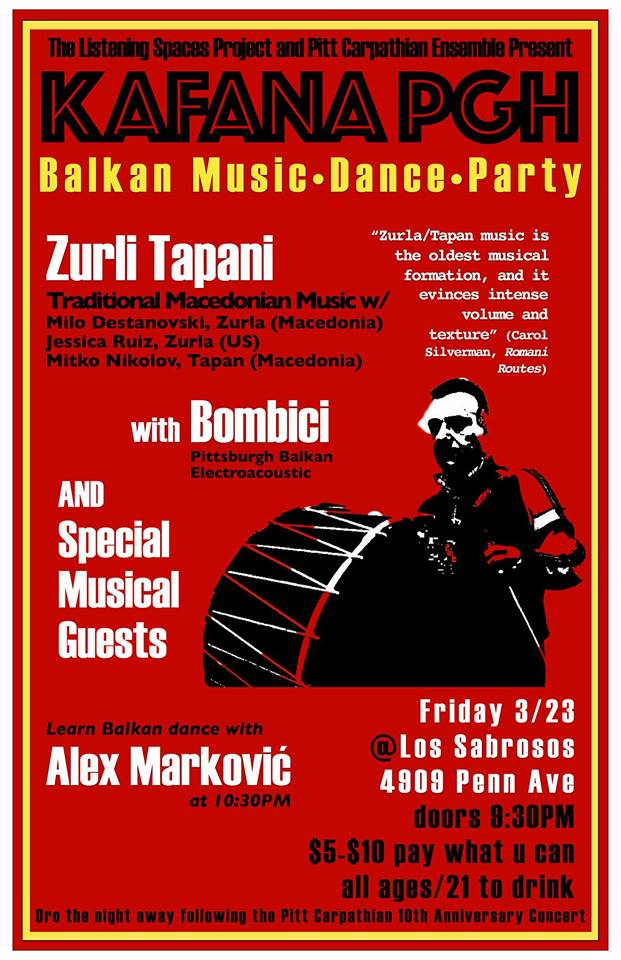 While not a Pittonkatonk project, this is definitely something to check out.
Come dance, drink, and celebrate spring! Join Listening Spaces and the Pitt Carpathian Ensemble for a night of traditional and contemporary balkan music and dance. Dance to traditional Macedonian Zurla/Tapan music with master performers Milo Destanovsky, Jessica Ruiz, and Mitko Nikolov along with famed balkan dance leader Alex Markovic. We'll have locals Bombici as well as special musical guests, improvisations, sing alongs, and open performances (grab an instrument and play with us!).
Admission is sliding $5-$10/pay-what-u-can. All proceeds go to the performing musicians. Refreshments available for purchase.
COMMUNITY RESOURCE TENT
sponsored by New Sun Rising