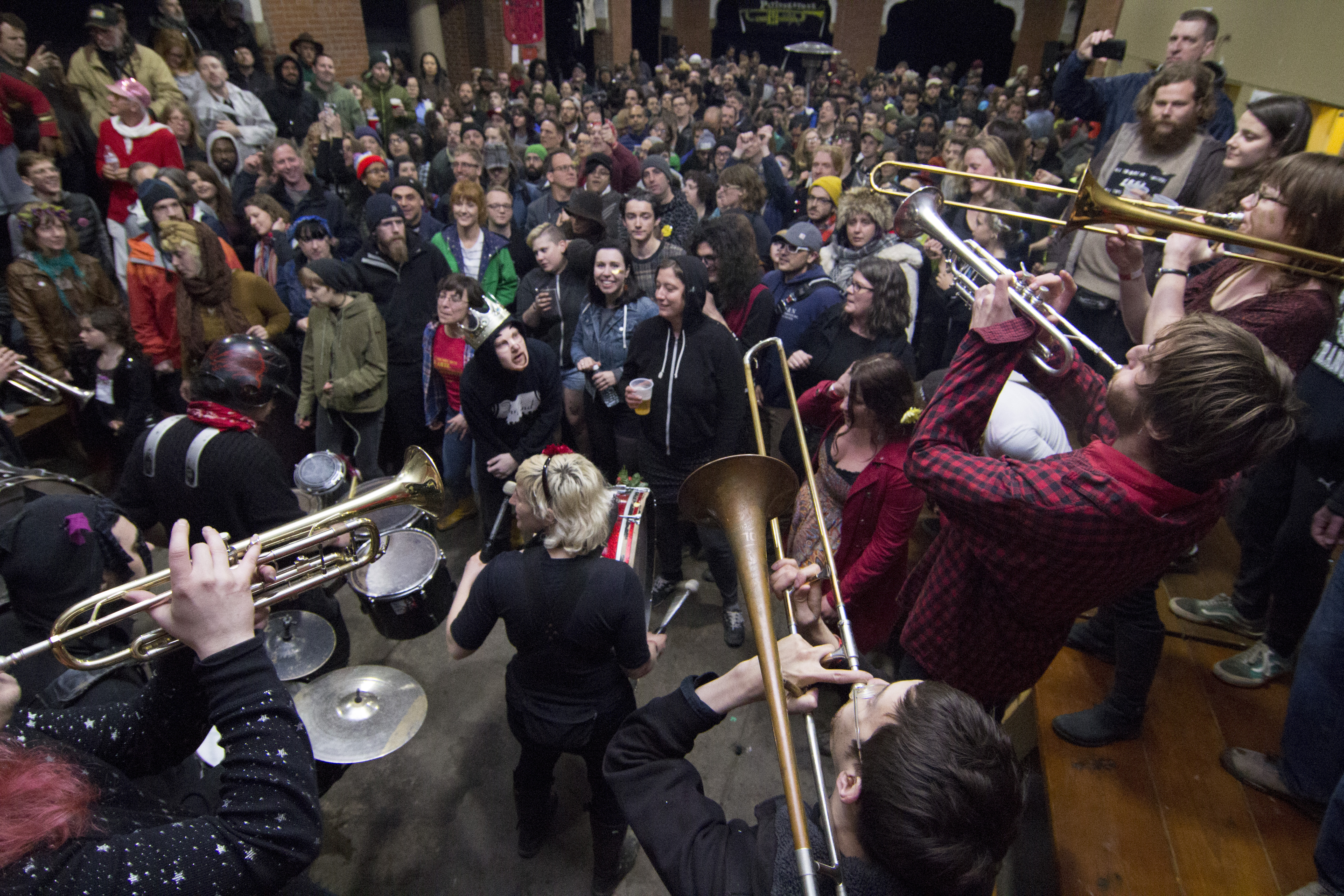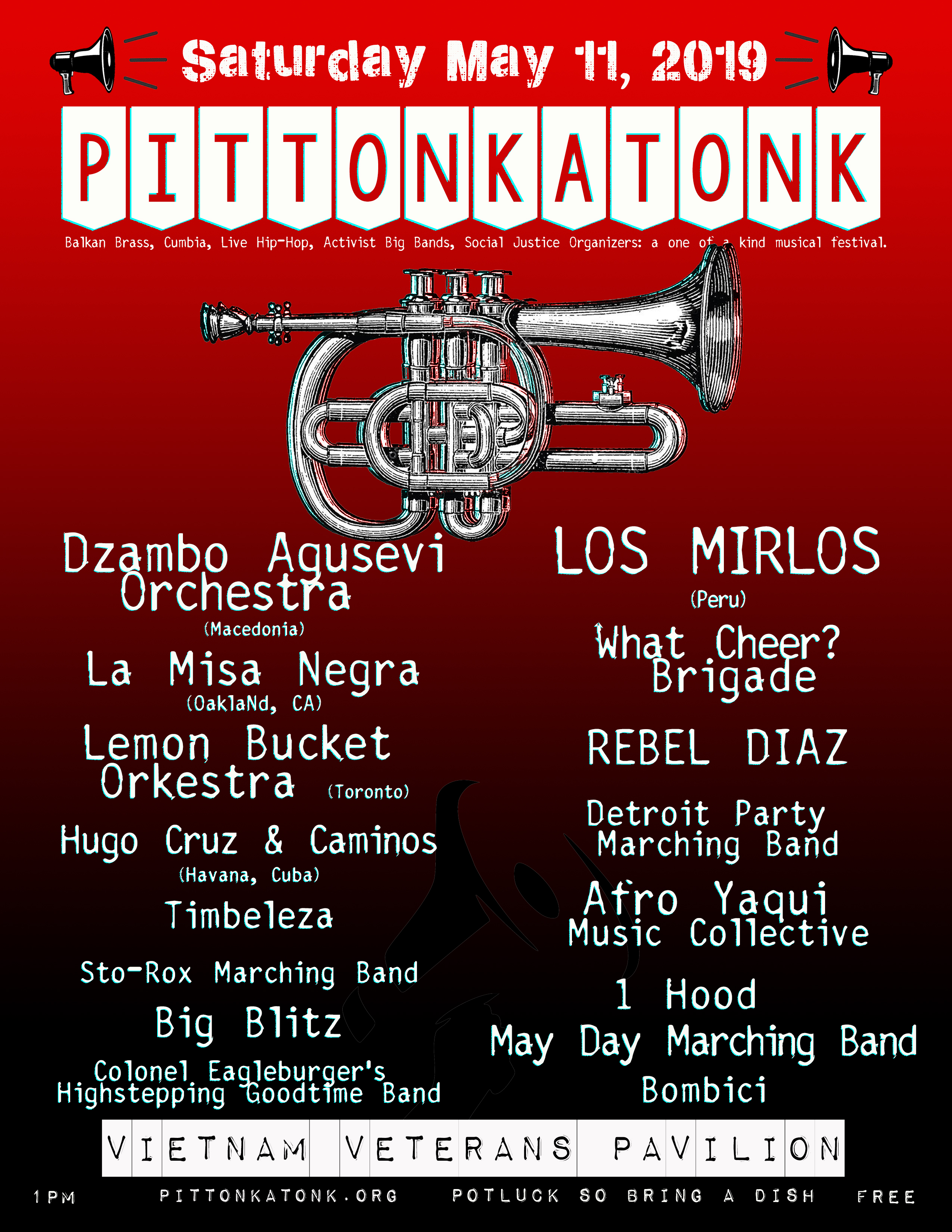 Date: Saturday May 11, 2019
Location: Vietnam Veteran's Pavilion in Schenley Park, Pittsburgh, PA
Time: 1pm – 11pm
Ticket Price:  No admission fee
Website: http://pittonkatonk.org
Facebook event page: (link)
Indiegogo:  LINK
The Brass BBQ is Saturday May 11th! The tentative lineup includes:

What Cheer Brigade (Providence, RI)
Afro Yaqui Music Collective (Pittsburgh, PA)
Los Mirlos (Peru)
Dzambo Agusevi Orchestra (Macedonia)
1Hood Media (Pittsburgh, PA)
Detroit Party Marching Band (Detroit, MI)
Lemon Bucket Orkestra (Toronto)
La Misa Negra (Oakland, CA)
Big Blitz (Pittsburgh, PA)
Rebel Diaz (Bronx/Chile)
Hugo Cruz and Caminos (Havana, Cuba)
Timbeleza (Pittsburgh, PA)
Sto Rox Marching Band (Pittsburgh, PA)
May Day Marching Band (Pittsburgh, PA)
Bombici (Pittsburgh, PA)
Col Eagleburger's Goodtime Highstepping Band (PGH)
What is PITTONKATONK?
Pittonkatonk is a space of engagement.
Pittonkatonk is collaboration.
Pittonkatonk is political action.
Pittonkatonk is music without boundaries. Since 2014, Pittonkatonk is music in public spaces that belong to everyone, with no stage, no doors, and no right way to express yourself. There is no admission fee and no corporate sponsors. It is a potluck event where people bring food, drink, music, dancing, and the desire to come together to celebrate what music and community really can be. We connect people with national and local musicians, activists, and educators in order to empower them to use their love of music to engage the world around them.
Our mission is to promote music performance as a means of achieving positive personal, social, and political outcomes. To achieve this we create events that engender purposeful music making on a communal level, blurring the lines between performer and spectator, entertainment and activism.
We work with adults and teens from Pittsburgh to create public performance opportunities designed to give a voice vulnerable people in our city.  Our goal is create a musical space for everyone, regardless of age, race, gender, class, or religion. Pittonkatonk brings together bands ranging from Balkan brass to activist marching bands, samba to New Orleans swing.  
How about a house show for the whole city? How about a family reunion with 2000 people you've never met? How about a neighborhood party with 90 neighborhoods? That's what we're about.  Pittonkatonk works because we make a call to action and, for the past three years, the community has answered.  This year, we want to join forces with you again to make our city more inclusive, progressive, and welcoming.   
Džambo Aguševi Orchestra is a brass band from Macedonia virtuously performing a music that might be defined as fusion of traditional Balkan, Gypsy and Turkish music influenced by swing, jazz and pop and film music, today considered as one of top Balkan brass bands. The famous "Dragacevski Sabor" in Guca, Serbia (also known as "Golden Triumpet competition") is since the sixties the most important event of this kind in the whole region and probably in the world. At the World competition in summer of 2011, The Aguševi Orchestra received the first prize and Džambo wrote his name in the history of this famous event: both the judges and the audience appraised the Orchestra and its young leader.
What Cheer? Brigade is a brass band with approximately 18 active members from Providence, Rhode Island. They perform using exclusively brass instruments, saxophones, and drums in a variety of world styles, such as Indian Bollywood music, Balkan brass, klezmer, as well as American styles such as hip hop, rock,
Los Mirlos (Peru) The iconic band is well known for the incredible productions of psychedelic Peruvian Cumbia that they have produced since the 70's. Widely known as the mastermind of the Peruvian-Amazonian Cumbia, they are back to the musical scene to share with the world the Peruvian musical history and the value of it.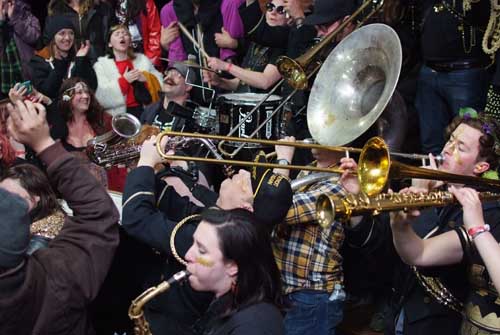 The Detroit Party Marching Band is an ever-evolving collective of 25 + Detroit area musicians devoted to frenetic revelry, driving jams, and the power of the un- amplified horn blast. Their music celebrates the spirit of street bands: a mobile, parade-ready mix of the Balkans, New Orleans, American Rhythm and Blues
Rebel Diaz – Somos hijos de political refugees from Chile who fled a CIA-funded dictatorship in the 1970s. Revolution raised us, and the culture of Hip-Hop provided us our own Nueva Cancion. We've been doing rebel rap since the Clinton era, sharing our story and those of our people; el barrio, the hood, the poor, los inmigrantes. Our bilingual sound has been shaped by pieces of South American folk, house, and latin percussion gettin down with boom-bap breaks and 808s.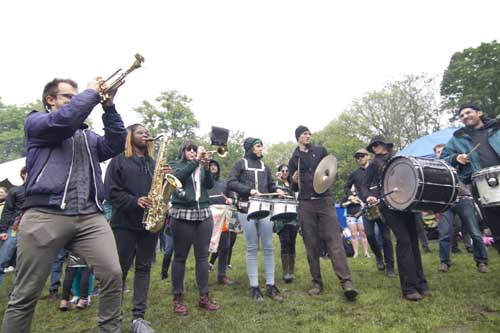 May Day Marching Band an inclusive community-based band from Pittsburgh, Pennsylvania. Our band formed in 2009 as part of the first annual May Day Parade in Pittsburgh's Polish Hill neighborhood. Since then, our presence in the community has continued to expand. We play for public events, protests
maydaymarchingband.blogspot.com/
1HOOD MEDIA IS A COLLECTIVE OF SOCIALLY CONSCIOUS ARTISTS AND ACTIVISTS, WHO BELIEVE THAT ART IS THE BEST WAY TO CHALLENGE INEQUITY, RAISE AWARENESS AND UNIFY HUMANITY.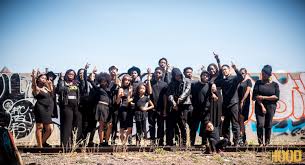 La Misa Negra is a 7-piece band from Oakland, California, known for their unique blend of heavyweight cumbia and high-energy, Afro-Latin music.  On stage, they deliver an electrifying performance that explodes with infectious dance grooves and punk rock energy, powered by horn and accordion-driven riffs, a fierce rhythm section, and a vintage-inspired sound. On the strength of their wild and one-of-a-kind shows, they have gained a reputation as one of the most exciting live bands to emerge from the Bay Area in recent years, garnering a diverse fan base that transcends musical, cultural, and generational divides.
http://lamisanegra.squarespace.com
Lemon Bucket Orkestra is a guerilla-punk-balkan-folk-brass band massive like no other. Tracing their genesis back to the streets of Toronto, the original quartet of busking troubadours quickly amassed a battalion of like-minded musical souls and the full-blown, dozen plus strong Orkestra was born.
https://www.lemonbucket.com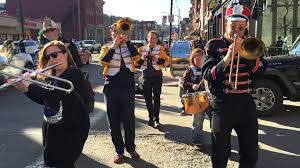 Colonel Eagleburger's Highstepping Goodtime Band  Pittsburgh's very own Highstepping band found at rallies, parties, community events, and anywhere a brass band is needed. 
Afro – Yaqui Music Collective Named after the indigneous music of Gizel's people, the Yaqui of northern Mexico, the band fuses music from music of first nations in the Americas with the funk, jazz, and hip hop to create a new rhythm that liberates spirit and soul.
Culture and politics are one circle of human life that reflect and reinforce each other. Therefore, any meaningful revolutionary process will have music and the arts at its fuel and its forcefield.
As we enter a world on the brink of social and environmental disintegration, our task is nothing less than a total transformation of values that builds a world beyond capitalism.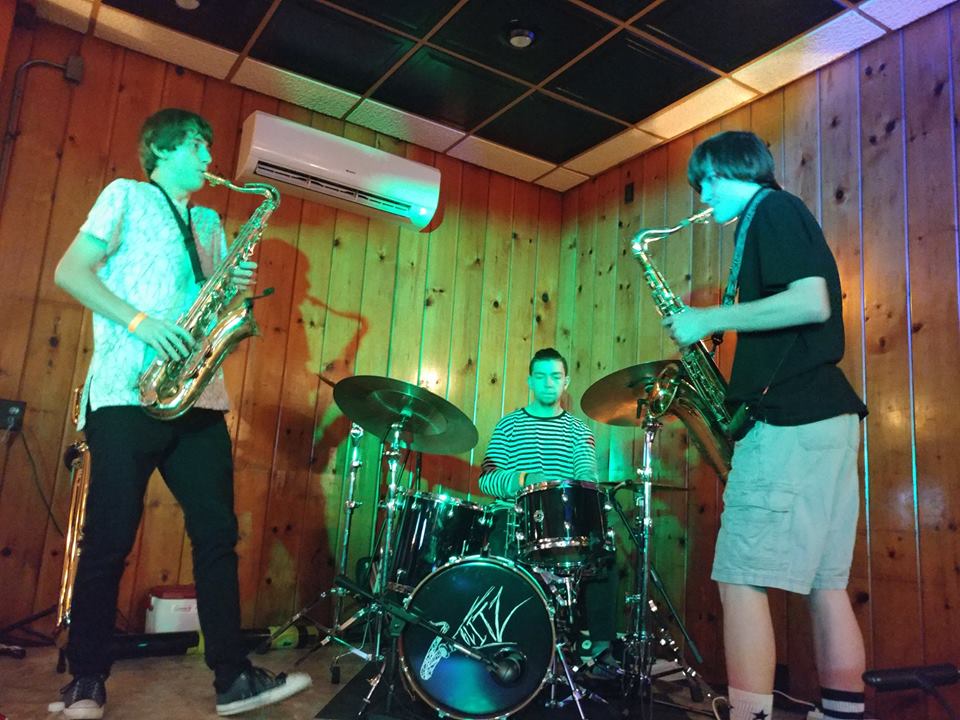 Big Blitz is a Pittsburgh based band that was born from the sounds of dance, rock, and jazz improvisation.
Bombici Pittsburgh's premier avant-garde, electro-acoustic post-punk, no-wave Balkan music ensemble.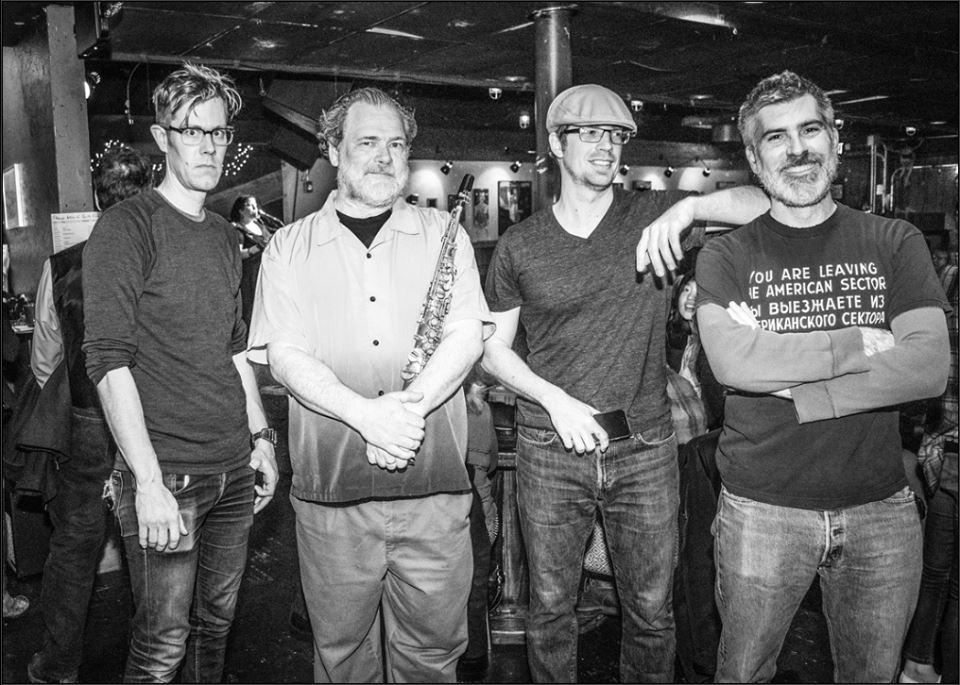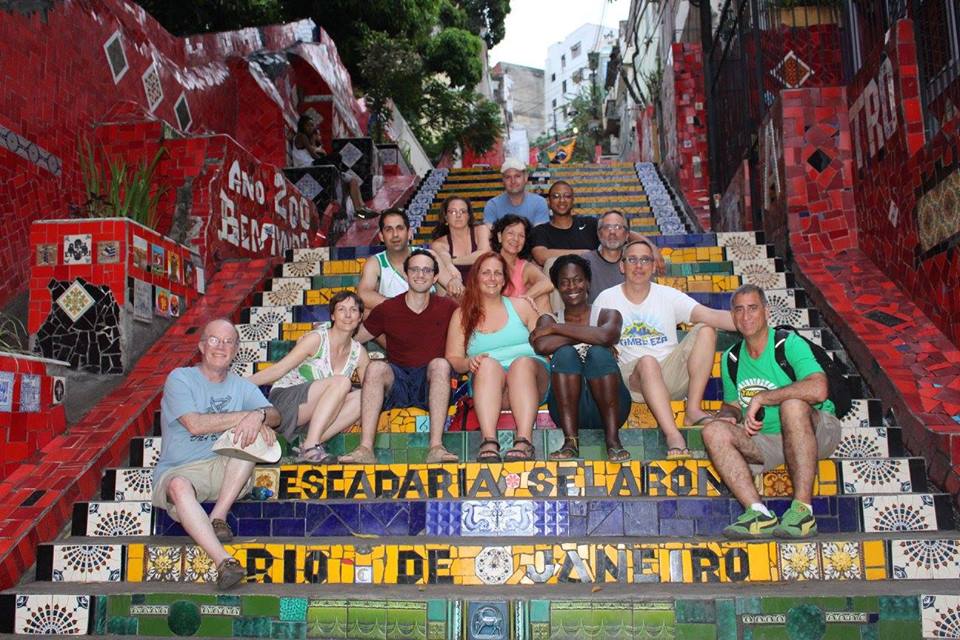 Timbeleza is a volunteer-run not-for-profit collective that recruits, teaches, and mentors members in instrumentation, rhythms, and movement. We work closely with master drummers, continually striving to expand our repertoire and gain new fans. Our goal is to expose people to samba and invigorate the community with our music and performance style.
COMMUNITY RESOURCE TENT
Sponsored by New Sun Rising
We are excited to introduce the Community Resource Tent as part of our May Day Celebration.  The natural progression from working with activist bands from around the country (and world) is to include the organizations working in the fields of social and environmental justice.  Stay tuned for additional information.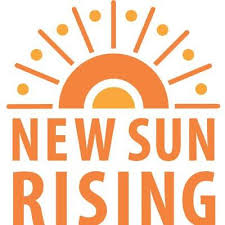 Community Resource Tent Sponsored by NEW SUN RISING
NSR builds vibrant communities through culture, sustainability, and opportunity. New Sun Rising provides strategic programs, vital services, and catalytic funding to power civic innovation from idea to impact. We will be on hand at the resource tent to chat about our programming from fiscal sponsorship to the vibrant communities framework and the new vibrancy funds.
NSR also serves as the Fiscal Sponsor for Pittonkatonk and related Pittonkatonk Education Programs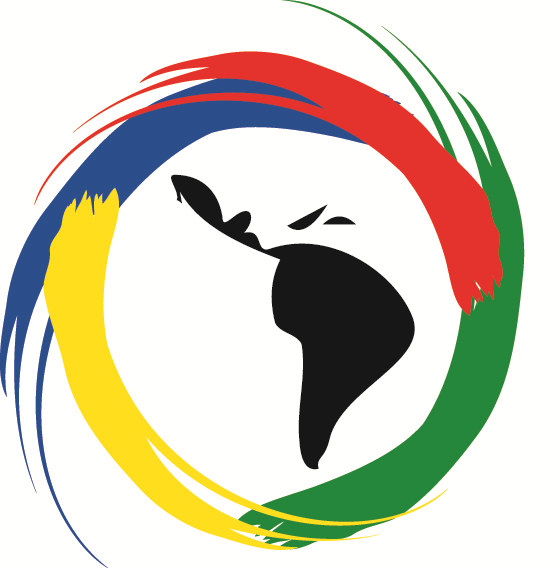 Latin American Cultural Union Mission is to promote, preserve and enrich the Latin American culture, while unifying the Latino community and bridging with other communities within the Greater Pittsburgh Area.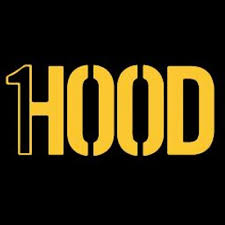 1Hood Media is a collective of socially conscious artists and activists who utilize art as a means of raising awareness about social justice matters effecting people around the world.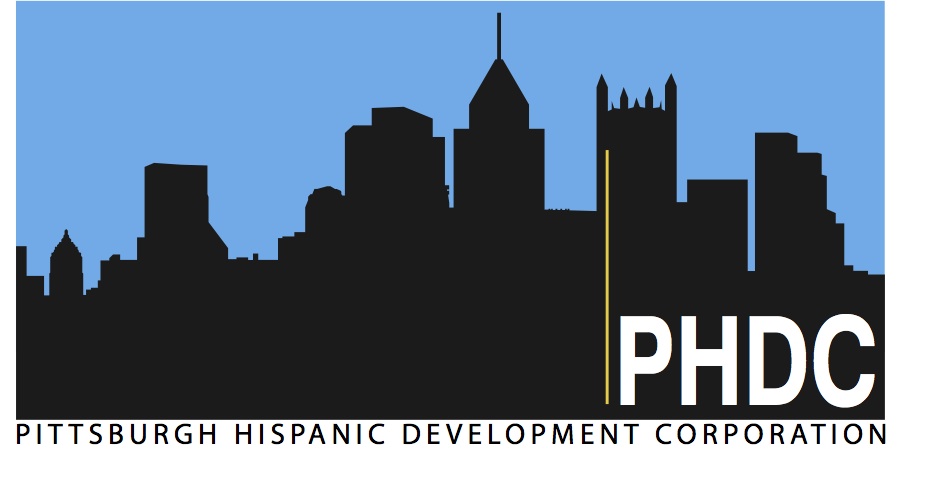 The PHDC is a community development corporation dedicated to increasing Hispanic population and investment in the Pittsburgh metropolitan area.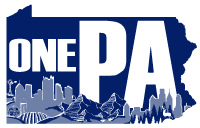 One Pennsylvania unites low income and working class activists with the support of a broad coalition of community, labor, faith, and students' organizations. Our members are workers, students, parents, seniors, people with disabilities, and retirees who are excited to learn, collaborate, and build power. Together, we tackle the fundamental economic justice and political participation problems of our community.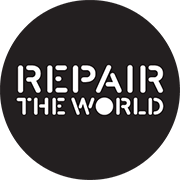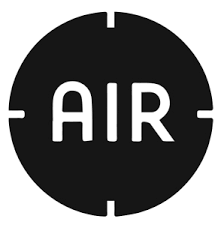 ARTISTS IMAGE RESOURCE (AIR) IS AN ARTIST RUN, NON PROFIT PRINT AND IMAGING ORGANIZATION ESTABLISHED TO SERVE AS A LABORATORY FOR ARTISTS, EDUCATORS AND THE COMMUNITY. 

Assemble is a 501(c)3 nonprofit organization dedicated to fostering learning and creativity. Assemble envisions diverse neighborhoods of empowered people who create, connect, learn, and transform together. We build confidence through making by uniting communities of artists, technologists, makers, and learners  both in our space at 4824 Penn Ave and beyond.

Oakland Planning and Development Corporation (OPDC)
Oakland Planning and Development Corporation (OPDC) is a community organization working for an inclusive, equitable Oakland in which a diverse mix of residents and visitors thrive. We provide affordable rental housing, renovate and sell homes to homeowners, organize and advocate for residents, facilitate planning processes, provide workforce development and financial coaching, and help youth succeed in high school and beyond. Visit our table to connect to neighborhood events and our housing, youth, workforce development and financial coaching opportunities.

Located in a warehouse in North Oakland, Prototype PGH is currently an entirely volunteer run organization with over 150 paying members. We provide access to high tech tools and equipment, offer workshops that prioritize the experiences of women, and cultivate a gender-inclusive professional support network. We will have hand made stamps and stamp making, and a CNC vinyl cutter, at the resource fair. Photo attached.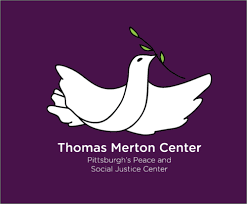 The Thomas Merton Center works to build a consciousness of values and to raise the moral questions involved in the issues of war, poverty, racism, classism, economic justice, human rights, and environmental justice. TMC engages people of diverse philosophies and faiths who find common ground in the nonviolent struggle to bring about a more peaceful and just world.
SOCIAL IMPACT EXPERIENCE
Launching 2019
As a community group how would you want to convey your message or express what you do if you had a full band at your disposal?
In 2018 Pittonkatonk will launch its Environmental Impact Experience that partners local non-profit organizations working on issues ranging from clean air, clean water, immigration, displacement, and social justice with local performers to create new collaborative works that will be featured at the May Day Picnic on May 5, 2018.  
This project will connect 3 local organizations with a facilitator and band to create a performance that conveys the mission of the organization. This project will work in three ways.
First initial meetings between the band, a facilitator, and the organizations to review the mission and vision. The role of the facilitator is to help brainstorm and break through the surface to help create an impactful message and performance.

Second stage is rehearsal.  The band and organization will work together from March to May composing and rehearsing the piece.  Documentation of this program will be important element.

Third component is the actual performance, documentation, and audience response at Pittonkatonk. We will ask that the documentarian interview members of the performance and the audience to gauge audience response then compile this into a short video both can use for their purposes.